Mobile pressing compactor ASK 10 – 24
This compactor is designed for pressing and transporting cardboard and plastic materials and the municipal waste. The standard produced versions include 10 m3, 20 m3 and 24 m3. The pressing part is fixed to the container. The container has conic sides in order to enable better emptying.
The massive  single-wing  door with  rectifiers  enables  perfect  shifting  of  the  pressed waste inside the container. The door can be equipped with rubber sealing  in order to prevent the liquid waste leakage. The door is equipped with three hinges ratchet mechanism.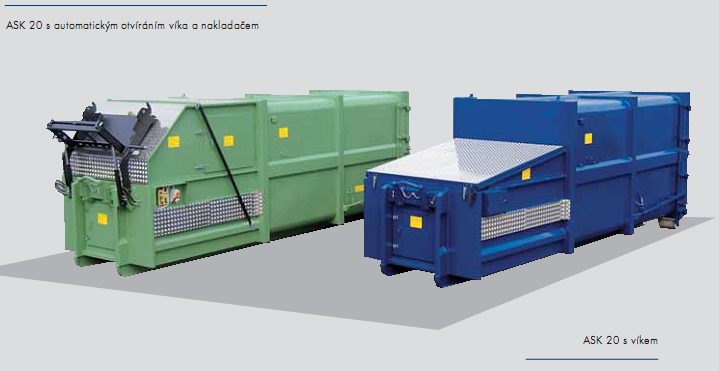 A yellow indicator signals that the container is filled at 80%; when 100% filling occurs, the pressing process automatically stops.
The pressing cycle (moving  the slide  forward and backwards)  takes approx 55 seconds.
If required, two pressing periods can be set. The times are preset to 10 and 60 minutes as a standard.
If  required,  a  GSM  module  can  be  install  to  provide  remote  information  regarding  the pressing process and the container fullness via SMS.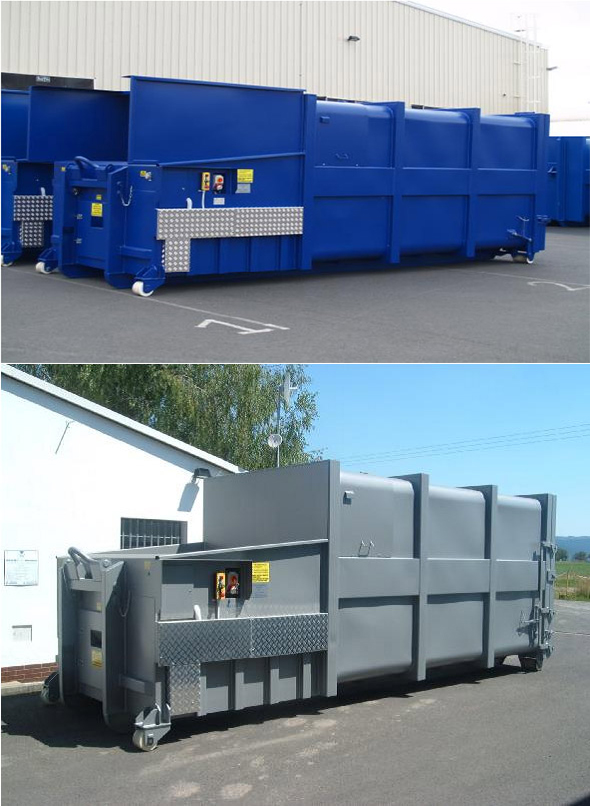 | | | | |
| --- | --- | --- | --- |
| TECHNICAL DATA | ASK 10 | ASK 20 | ASK 24 |
| Volume | 10 m³ | 20 m³ | 24 m³ |
| Hopper volume | 3,5 m³ | 3,5 m³ | 3,5 m³ |
| Hopper length over press side | 1 300 mm | 1 300 mm | 1 300 mm |
| Hopper width over press side | 2 070 mm | 2 070 mm | 2 070 mm |
| Hopper height over press side | 740 mm | 740 mm | 740 mm |
| Volume of press cycle | 1,25 m3 | 1,25 m3 | 1,25 m3 |
| Press slide width | 1 940 mm | 1 940 mm | 1 940 mm |
| Press slide height | 540 mm | 540 mm | 540 mm |
| Hopper length in front of press slide | 1 200 mm | 1 200 mm | 1 200 mm |
| Press cycle time | cca 55 sec. | cca 55 sec. | cca 55 sec. |
| Pressing power | max 31 t | max 31 t | max 31 t |
| Working pressure | max 240 bar | max 240 bar | max 240 bar |
| Volume per hour | cca 82 m3 | cca 82 m3 | cca 82 m3 |
| Length L | 4660 mm | 6600 mm | 7040 mm |
| Width | 2450 mm | 2450 mm | 2450 mm |
| Height H1 | 2500 mm | 2500 mm | 2500 mm |
| Infill height H2 | 1 655 mm | 1 655 mm | 1 655 mm |
| Electric input | 5,5 kW | 5,5 kW | 5,5 kW |
| Voltage | 3 x 400 V | 3 x 400 V | 3 x 400 V |
| Protection | 16 A | 16 A | 16 A |
| Weight | 3800 kg | 4600 kg | 4860 kg |
| Certification | CE | CE | CE |
Výhody naší společnosti
Naše společnost dodává pouze
kvalitní zařízení za přijatelné ceny

Naše ceny jsou demokratické a dostupné
každému kupujícímu

Pouze naše společnost poskytuje nejen
záruku, ale i následnou post-záruční službu
* Povinný údaj
Kontaktujte nás